Every display case at the 5 exhibition centres located throughout the Americas is protected with Anti-SnatchTM Alarms supplied by Euronova; Well over 500 alarms protecting thousands of priceless artefacts. The AntiSnatchTM Alarm provides a cost effective and flexible security solution to virtually any display or exhibit.
Titanic exhibitions on display in Seattle, Baltimore, Santiago, Kansas City, and Nashville. These exhibitions are produced by Clear Channel Entertainment, one of the world's largest diversified promoters, producers and presenters of live entertainment events.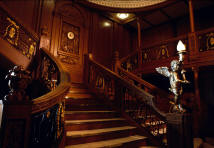 Photographs taken by Dirk Fletcher. Photographs copyright RMS TITANIC Inc. & Text - permission from ClearChannel Inc.
The Anti-SnatchTM Alarm, a flexible security friend used in exhibitions, museums, churches, cathedrals and displays around the world.
The AntiSnatchTM Alarm - whether your security problems are titanic or a little more modest...
Watch out if you plan to use vibration sensors on laminated glass showcases. the transmission of vibrations can be quite limited.